PT8 Small Group exercise, with class sizes capped at 8, is big enough to be fun, but small enough stay high quality. Small Group exercise has been gaining popularity because it's an affordable, fun way for clients to take advantage of a Trainer's expertise at a fraction of the cost on 1-on-1 Personal Training, whilst adding the fun and competitiveness of a group dynamic.
Small Group Exercise Training
Small Group Exercise Training is where more and more clients are going to get a workout. Small Group Training gives the opportunity for clients to enjoy the benefits of the expertise, creativity and motivation of a Personal Trainer while lowering the cost per session. Some clients may even choose to do both — use 1-on-1 training to address their specific concerns about their bodies, while also enjoying the fun and energy of Small Group exercise sessions.
Different to Group Exercise
Small Group Exercise in PT8 is different to traditional Group Exercise in many ways. Compare the two side by side,
| PT8 Small Group Personal Training | Traditional Group Exercise |
| --- | --- |
| Class size capped at 8 | Class size up to 40 people |
| Personal Trainer must hold Certificate IV in Fitness | Group Exercise Instructor only needs Certificate III in Fitness |
| Instruct/teaches/corrects – does not work out with group | Works out with class sometimes at the expense of checking clients technique |
Skilled Personal Trainers
Large group classes can allow the instructor to "hide" their lack of movement knowledge by performing high energy exercises and motivating a large group. With a PT8 Small Group exercise session limited to 8 participants, our sessions are small enough to highlight the high quality of our Trainers, with no-where to hide and plenty of opportunity to interact and address movement technique.
Our Personal Training Studio is located in Nerang, just off the M1 in the heart of the Gold Coast. We use an excellent heart rate monitoring system to ensure every client is training in the right zone for their goals and is pushing as hard as they can. Our facility includes a variety of great equipment including a full rack of suspension trainers, boxing bags, cardio equipment, free weights, medicine balls, fit balls, battle ropes, hurdles, agility ladder and more – plus we are fully air conditioned to keep you nice and cool no matter how hard you work.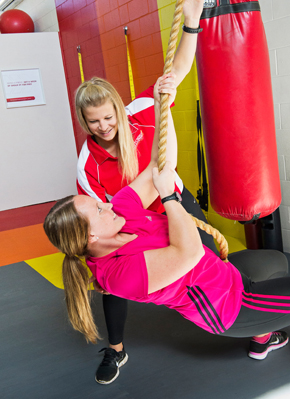 Check us out
Request a timetable or give us a call, you can drop in and visit us at the studio and claim your free trial session! Come and experience for yourself the PT8 Personal difference.
Get a free session, free fit tips and our timetable