PT8 is our latest Personal Training option brought to you by Fitness Enhancement. Our Small Group Training is held at our Nerang Personal Training studio in the heart of the gold Coast. We have a maximum class size of 8 people for the personal attention of a 1-on-1 session, but with the fun and energy of a group.
Why only 8 in our Group Training?
While many Gyms and fitness centres on the Gold Coast offer group training with class sizes varying between 20-40 people, we find it's much easier for our Trainers to give each client the personal attention they need in a class capped at 8 people. With big groups it's easy to get lost in the crowd. There's no hiding up the back in a group of 8!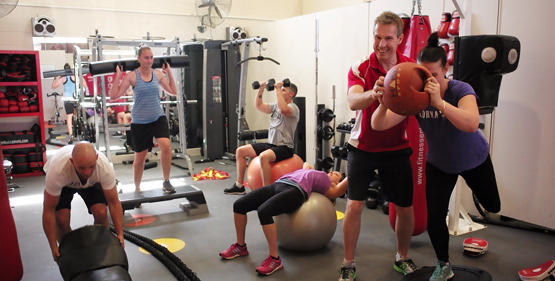 More exercise options
There are a limited number of exercises you can perform with large groups. You need to have enough equipment and space for everyone to be able to do every activity, so usually most group training classes will use steps, dumbbells, barbells and bands. Even if you break it up into stations to include a variety of equipment in a circuit, it is very difficult to supervise so many different exercises at once, which can lead to incorrect technique and increased risk of injury. With our small Group Training size we find a huge number of exercises are opened up to us, like using suspension trainers, boxing bags, medicine balls, fit balls, bosus, balance equipment, plyometric boxes, travelling across and around the room, and many more things that would otherwise be reserved for 1-on-1 Personal Training.
Safety in Group Training
A crucial factor to client's safety when training in a group is close supervision, correct technique, appropriate intensity levels and knowledge of client's medical history. For example, a client with high blood pressure would have many restrictions, which would be entirely different to a client recovering from a knee injury, one with a tight lower back, different again to a beginner or again an advanced athlete. It would simply not be possible for our Trainers to keep everyone performing every exercise safely and with correct technique with large groups. They could not possibly know every single client's goals, fitness levels, injuries and medical history with a group of 40. PT8 on the other hand, is safe, personal and tailored to each individual.
Our private Training Studio is located in Nerang, just off the M1 in the heart of the Gold Coast. We use a fantastic heart rate monitoring system to ensure every client is training in the right zone for their goals and is pushing as hard as they can. We have a huge selection of equipment including a full rack of suspension trainers, boxing bags, cardio equipment, free weights, medicine balls, fit balls, battle ropes, hurdles, agility ladder and more – plus we are fully air conditioned to keep you nice and cool no matter how hard you work.
Check us out
Request a timetable or give us a call. Claim your free trial session and check out the difference it makes to get personal attention and imagine what you can achieve.
Get a free session, free fit tips and our timetable