PT8 is our latest offering in personalised group fitness services at Fitness Enhancement. We now offer Small Group Fitness classes at our Nerang Personal Training studio, fully equipped and air-conditioned in the heart of the Gold Coast.
The Personal difference
Many gyms and fitness centres offer group fitness, so what's different about PT8? While other places have class sizes varying between 20-40 people, it's easy to get lost in the crowd. There is simply no way one Trainer can correct the technique of every single person in that class at the same time. They cannot know every single client's goals, fitness levels and injuries/ medical history. Much less who's coming to class, who hasn't shown up and what you've been eating over the last 3 days.
Personal attention in group fitness
At PT8, with class numbers capped at just 8 people, you know you will get the personal attention and service you deserve for a fraction of the cost of 1-on-1 Personal Training. We conduct a thorough initial consultation and go over your fitness goals, medical history, injuries and fitness levels. We will chat with you each week about your nutrition and how you are progressing at home between our group fitness sessions. Rather than getting lost in the crowd, you will be getting the full attention of your Personal Trainer. Because there is nowhere to hide you will be getting a great workout every session.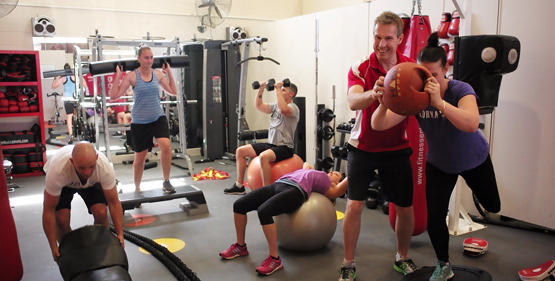 Smaller group, bigger results
Scientific studies have looked at what size group works best for group fitness and weight loss, one study compared a group of 30 to a group of 12. Over a one-year period the smaller group achieved FOUR TIMES the results of a bigger group. One of the reasons for success was that the participants of the smaller group felt as though they were a part of something and reported feeling more engaged. The researchers noted that the smaller group fitness setting provided more a positive, cohesive, and collaborative atmosphere. The researchers said adherence (sticking to it) made the biggest difference between success and failure, the more intimate group dynamic in the smaller group resulted in better follow-through.
Accountability
If you need help with accountability in your Gold Coast group fitness, look no further. If you book in for a session and don't show up, you WILL be getting a phone call asking where you were and keeping you accountable to your exercise plan. You will also get to know the other clients, push each other and hold each other accountable for attending sessions too. You might even meet up for a coffee outside of class. Every little bit of motivation and accountability makes a difference to your chances of sticking with it and being successful.
Our private Training Studio is located in Nerang, just off the M1 in the heart of the Gold Coast. We use a heart rate monitoring system that provides real-time accountability to ensure every client is training in the right zone for their goals and is pushing as hard as they can. We have a huge selection of equipment including a full rack of suspension trainers, boxing bags, cardio equipment, free weights, medicine balls, fit balls, battle ropes, hurdles, agility ladder and more – plus we are fully air conditioned to keep you nice and cool no matter how hard you work.
Check us out
Request a timetable or give us a call, you can drop in and visit us at the studio and claim your free trial session!
Get a free session, free fit tips and our timetable