PT8 is our latest offering in personalised group fitness services at Fitness Enhancement. We now offer Small Group Fitness classes offering function training similar to F45, but with smaller numbers and more personal attention, at our Nerang Personal Training studio on the Gold Coast.
Functional Training on the Gold Coast
What does "functional training" mean? It's all about using your body in a functional manner, just like you would in real life. It involves bending, twisting, reaching, pushing and pulling so you prepare your body for the real life movements you might perform. Things like getting in and out of a car, climbing a ladder, moving furniture, vacuuming, sweeping, getting up off the floor, carrying groceries in from the car, carrying a toddler. Real life movements don't require you to sit still in a machine and bend one joint and contract on muscle at a time. In real life you have to move your body all together, brace your core, bend your knees, push with your arms, rotate to one side.
The PT8 Difference
Even though we are big believers in functional training, (places like F45 and Crossfit offer this style of training), we also believe you can't get proper safety and support when you train in a busy, crowded class environment. It's so important that every session can cater to each individual, with Trainers being able to offer cues and modifications for clients with health issues or injuries. This is why we now offer functional training but in a small group, to give you the one-on-one attention you just can't get in a crowded group class.
Small group, big results
For group fitness and weight loss, scientific studies have looked at what group size gets the best results. One study compared a group of 30 people to a group of 12 people over a one-year period. The smaller group achieved FOUR TIMES the results of a bigger group. The researchers believe that the smaller group setting provided more a positive and collaborative atmosphere. The researchers said the biggest difference between success and failure was simply "sticking to it". The more intimate dynamic in the smaller group resulted in better adherence and better results.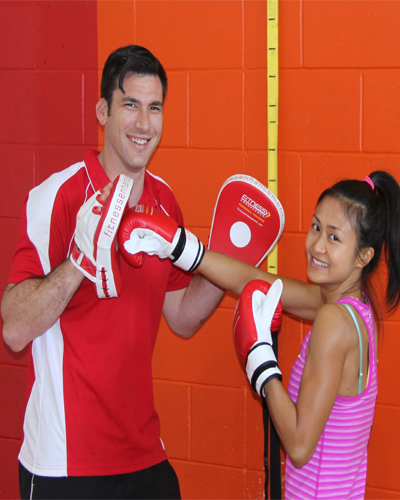 Our private Training Studio is located in Nerang, just off the M1 in the heart of the Gold Coast. We have a huge selection of equipment including a full rack of suspension trainers, boxing bags, cardio equipment, free weights, medicine balls, fit balls, battle ropes, hurdles, agility ladder and more. Our heart rate monitoring system gives you real-time accountability to ensure you are training in the right zone for your goals and are pushing as hard as you can. We are fully air conditioned to keep you nice and cool no matter how hard you work.
Check us out
Request a timetable or give us a call. We're so confident in our fabulous sessions we give you a free trial session to show you how much you'll love it.
Get a free session, free fit tips and our timetable