At Fitness Enhancement our latest offering in personalised group fitness classes here on the Gold Coast is PT8. We now offer Small Group Fitness classes at our Nerang Personal Training studio, in the heart of the Gold Coast.
The difference is Personal Fitness Classes
Many gyms and fitness centres on the Gold Coast offer group fitness classes, so what's different about PT8? While other places have busy classes of up to 40 people, it's easy to get lost in the crowd. At PT8, with class numbers capped at just 8 people, you know you will get the personal attention and service you deserve. If you're struggling in a big group of 30 people, there is simply no way one Trainer can correct the technique of every single person in that class at the same time. They cannot know every single client's goals, fitness levels and injuries/ medical history.
Not just a number
Because our fitness classes are so small, we get to know each and every client. We conduct an initial consultation, involving your fitness goals, medical history, injuries and fitness levels. Our Trainers will chat with you each week about your nutrition and how you are progressing at home between sessions. Rather than getting lost in the crowd, you will be getting the full attention of your Personal Trainer. Because there is nowhere to hide you will be getting a great workout every session. If you sign up for a session and you don't show up, you will be getting a phone call to check on you and keep you accountable!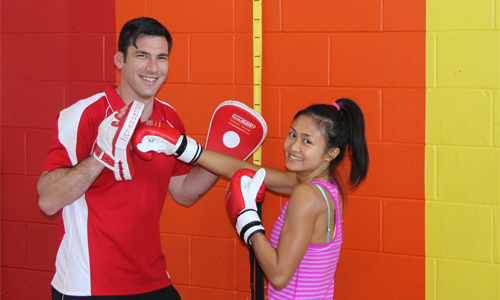 Fun Fitness Classes
Our fitness classes aren't the same every week, we include all types of functional training to give you the best balance of cardio and resistance training for maximum metabolism boost, building lean muscle and burning fat. Some of the fun things you might experience are boxing for fitness, exercise bikes, kettle bells, fit balls, battle ropes, agility ladders, suspension trainers and much, much more. Plus you get to train in the comfort and privacy of our air-conditioned Studio in Nerang with a Personal Trainer.
We know the environment you train in makes a difference, our private Training Studio is located in Nerang, just off the M1 in the heart of the Gold Coast. We have a huge selection of equipment including a full rack of suspension trainers, boxing bags, cardio equipment, free weights, medicine balls, fit balls, battle ropes, hurdles, agility ladder and more. We give you real-time accountability to ensure you are training in the right zone for your goals by using a heart rate monitoring system with live displays on large screens. We are fully air conditioned to keep you nice and cool no matter how hard you work.
Check us out
Request a timetable or give us a call now. We're available to chat or we can book you in for your free trial session, so you can see for yourself what a difference it makes to be part of a small team.
Get a free session, free fit tips and our timetable