Our non-contact Kickboxing and Boxing Gold Coast fitness sessions are all about burning calories and having fun! Under the title of PT8 – our small group personal training sessions take the best fitness drills from Boxing, Muay Thai, Kickboxing and Boot Camp and packed them into one fantastic fitness session. With only 8 people or less per class you get all the personal service for a fraction of the cost of 1-on1 Personal Training, and the benefits of a group environment.
Boxing for fitness on the Gold Coast
Everyone knows how great boxing is for fitness. You get all the fitness benefits without any of the risks of full contact Boxing. Our Kickboxing and Boxing circuit classes are fun, simple and they work. Each class is run by one of our qualified Personal Trainers and is an awesome workout for all abilities. You won't just be punching the air, you'll be punching and kicking real bags and focus mitts for real results!
More than just punching
Our Boxing sessions aren't limited to just boxing, we include all types of functional training to give you the best balance of cardio and resistance training for maximum metabolism boost, building lean muscle and burning fat. Some of the fun things you might experience are exercise bikes, kettle bells, fit balls, battle ropes, agility ladders, suspension trainers and much, much more. Plus you get to train in the comfort and privacy of our air-conditioned Studio in Nerang with a Personal Trainer.
Personal service
With class numbers capped at just 8 people, you know you will get the personal attention and service you deserve for a fraction of the cost of 1-on-1 Personal Training. Before you begin we go through an initial consultation and go over your fitness goals, medical history, injuries and fitness level. Your Trainers have time to get to know you and any special requirements you might have, because our numbers are so small clients of all ability levels can train safely with personal attention. The Trainers will chat with you each session about your nutrition and help you with any barriers you might be experiencing. It's just like a 1-on-1 Personal Training session, but with friends!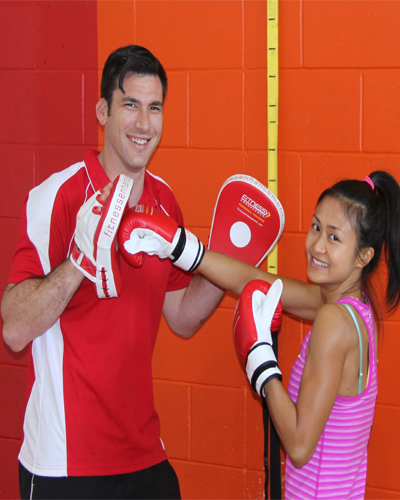 Our private Training Studio is located in Nerang, just off the M1 in the heart of the Gold Coast. Our heart rate monitoring system that provides real-time accountability to ensure every client is training in the right zone for their goals and is pushing as hard as they can. We have a huge selection of equipment including a full rack of suspension trainers, boxing bags, cardio equipment, free weights, medicine balls, fit balls, battle ropes, hurdles, agility ladder and more – plus we are fully air conditioned to keep you cool no matter how hard you work.
Check us out
Request a timetable or give us a call today! You can drop in and visit us at the studio, claim your free trial session, get the results you deserve.
Get a free session, free fit tips and our timetable